Обзор отелей Calangute
— 257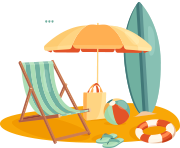 У отелей этого курорта пока нет отзывов :(
Ваш отзыв может стать одним из первых!
Leave a review and get 100 points on your bonus account
TravelBonus
- бонусной программы для туристов.
Search and book hotel in Calangute
В Calangute расположено 257 отелей, представленные такими типами размещения: Mini-Hotel, Hotel, Guest house, Boutique Hotel, Private hotel. Среди них присутствуют крупные сети отелей: Days Inn, Ibis Styles Hotels Премиум и люкс отели такие, как Le Meridien Goa 5*, Pride Sun Village Resort & Spa 5*, The Park Calangute Goa 5*, Pausada De Tauma 5*. По расположению отели Calangute делятся на: Пляжный, Городской, Загородный. Если вам не подошли отели "Выбора TopHotels", вы можете выбрать номер в любом другом отеле этого курорта. Мы даем вам возможность ознакомиться со свежими отзывами об отелях и их специальными акциями, чтобы вы забронировали наиболее подходящий вам отель. Выбор отеля очень важная составляющая отличного отдыха, чтобы не испортить свой отпуск ознакомьтесь с отзывами и мнениями туристов и специалистов туристического бизнеса об отелях, которые помогут вам подобрать именно тот отель, который вам нужен.